Cabot, Clifton & Clifton East
'Sharing Communities' by Anna Wilson.
REUSE | RECYCLING | UPCYCLING | ALL WARDS
'Sharing Communities' was an experiment  which tried to put people's recycling and reuse behaviours and needs in the spotlight, with a view to creating social change. Uniquely themed, artist-led, pop up events have happened over the three wards, targeting different sections of the neighbourhood, to offer people new ways of sharing and examining the issue. The events were centred around community engagement and participation and hoped to create sustainable models for the future – like how students and Bristol residents could work together, for instance.
Anna Wilson has been working on community arts projects for nearly 20 years. She is well connected to the neighbourhood partnership area and networked in to the Bristol arts scene through projects like HighWaterLine and West Bristol Arts Trail. 
•    Worked with 17 project partners 
•    Held 7 workshops and events across all wards
•    Tested 5 different ideas for community re-use activity 
Activating spaces provides a valuable exercise which both benefits furthering our own skills and knowledge, while collaborating with communities to experiment with their space in a thought provoking manor. – UWE MA Architecture Student.
---
***NEWS UPDATE*** 27th October
After a grand finale last weekend which saw The Ambling Band, resplendent in pink, march down the Portway with a bandstand built by MA Architecture students, the Sharing Communities project as finally come to a close. 
Thanks to all those who made recycled boats for the 'Float Your Boat' flotilla that launched on Sunday morning, and the Sailing School who rescued them.
Thanks to all the musicians and volunteers who performed on and carried the recycled 'Wayfarer' bandstand.
For those of you who were running the Bristol to Bath marathon on Sunday instead, or who missed the event for slightly less energetic reasons, take a look at the picture galleries at the bottom of this page to see what went on.
---
***NEWS UPDATE*** 20th October
We're pleased to announce the grand finale of Float Your Boat & Build a Bandstand this weekend. Get ready to see Trumpeters, The Ambling Band and much more at this fan-fare for the Portway Sunday Park. There's loads of activities and a chance to see the recycled boat you made launch off from the Cumberland Basin – so make sure you don't miss out! For the full line up, see the event page here. 
Download the Flyers here:
---
***NEWS UPDATE***  8th October
Anyone make a miniature boat last Sunday at Underfall Yard? Last weekend was a busy one for the Sharing Communities project with a student/resident street swap in Clifton East and boat making as part of Docks Heritage weekend on Sunday. Did you get involved? Drop us an email and tell us what you thought?
If you missed it, don't worry. Check out the galleries at the bottom of the page. 
---
***NEWS UPDATE***  30th September
It's all kicking off with Sharing Communities! 
As well as 'Hello, Do You Like My Planter', the Student/Resident street swap event this Saturday, Anna's also going to be part of the Docks Heritage Weekend down at Underfall Yard on Sunday. Come on down to explore how the boating community reuse and upcycle. Arrive between 2pm and 4pm to make your own miniature recycled boat to add to the flotilla installation that will be cast off into Cumberland Basin on 25th October. 
For full details of all the mini-boat making workshops over the next few weeks, visit our event page here, or follow the Sharing Communities page on Facebook. 
Download the Docks Heritage Weekend flyer 

here
---
***NEWS UPDATE***  23rd September
Last night Anna Wilson attended the University of Bristol Students' Union freshers fair to speak to new students about how they can get involved in Sharing Communities. It was a busy event, with lots of great people and we're now really looking forward to the student/resident pavement swap event coming soon on 3rd October!  
If you're a Clifton based student or a resident of Clifton East, then take a look at the event page to find out what's going on. 
Check out the galleries below for more images from the freshers event!
---
***NEWS UPDATE***  12th September
Inspired by the incredibly resourceful Underfall Yard, this weekend Anna revealed some artwork as part of Bristol Open Doors. Anna highlighted some of the incredible ways the community reuse and recycle.
Other dates when you can visit our Float your Boat story telling hut, re-using the Boatyard's building information kiosk, and make more 'boats' are:
•    Sat 26th Sept 12-2pm
•    Sun 4th October, Dock Heritage Weekend 1-4pm
•    Sun 11th October 11-3pm
•    Sun 18th October 3-5pm
Related Articles: What we can all learn from Bristol's boaters; Island Life – a lesson in imaginative re-use
---
***NEWS UPDATE*** 18th August
Sharing Communities now has a full line up of events for you to get involved with!
6th September 2-5pm annual Children's Day at Waring, Underhill and Francombe House, Cumberland Rd, Redcliffe, BS1. Stomp rocket workshop with Louise Block, planters and garden design with Isobel Tarr. Other activities for children provided by the WUF residents association include a children's entertainer.
13th September Portway picnic, 3-5pm at Portway Sunday Park: design a bandstand, bring loud acoustic instruments, food, drink and a rug.
3rd October Clifton: 'Meet your Neighbours' Pavement Swap and planter display- 12-4pm
4th October: Make a Float from Boatyard Junk at the Docks Heritage Weekend, Underfall Boatyard, BS1 2-4pm.
25th October: Build a Bandstand and watch 're-use' brass bands, puppets and poetry on the traffic-free Portway. Watch the Flotilla cast off in the Cumberland Basin.
---
Hello, Do You Like my Planter?
This a project with the Get Green Fund, helping students to meet and greet their new neighbours, at the beginning of the academic year, and we've hit on some tried and tested talking points to get people re-using more. This project includes workshops to
Make a pallet bench
Plant a shoe and other waste vessels
Art your bins
Make a noticeboard
Students and more permenant residents can take these 'artworks' back to their streets and put them in the front garden, on walls, or window ledges and get chatting to their neighbours
On the 3rd October we are inviting the community to put out unwanted house-hold items for a neighbourhood-wide pavement swap.
Growing Communities
Encouraging people to create communal gardens out of waste space, we will be focusing on some land next to Francombe House in Redcliffe and working with the WUF Residents Association to improve their outdoor space.
In August, Anna will collaborate with the residents produce a season planting plan, start some planting and design and a paint a mural.
On 6th September at the annual Childrens Day on the estate, we will provide artist led activities that all the children can enjoy, showing them how to grow food, flowers and make toys from rubbish
Float your Boat
We have a massive harbour in our neighbourhood, which we probably all enjoy. People who live, work on and build boats are brilliant when it comes to making and fixing things and we'd like to share their stories to inspire you.
Working with the Underfall Boatyard, we'll be creating a 'Story telling hut' which shares some of the ingenious ways boaty people have re-made and repaired, and the 'adaptive re-use' story of the boat yards redevelopment.
Not only that, but we'll invite people in to make a small 'boat' out of waste from the yard and in September and October, we'll launch them as a flotilla with a big fanfare
Build a Bandstand
For the makers in our neighbourhood, this is a chance to collaborate and make use of old bits of art materials, theatre waste and those pallets that just keep giving! Working with designers and architects we will create a pre-fab bandstand to bring to the Portway Sunday Park. Quick to assemble this will form a stage for performers from many genres. We'll bring to life old puppets, re-write poetry, music and celebrate improvisation!
Your Place to Play
This took place on 5th July with people from different parts of Bristol, coming to help locals re-imagine the Cumberland Piazza as a play space. Canvas Spaces are now creating a design for a skate and sports park and Do15 Young Bristol Creatives have painted some wonderful 'games' and route markers for everyone to enjoy.
---
Here is an update from Anna Wilson…  1st June
Between May and July 2015 I'm talking to people all over our neighbourhood from the Downs to Spike Island, the Centre to the Portway, Kingsdown to Clifton and everywhere in between.
What do we do with all this Stuff?!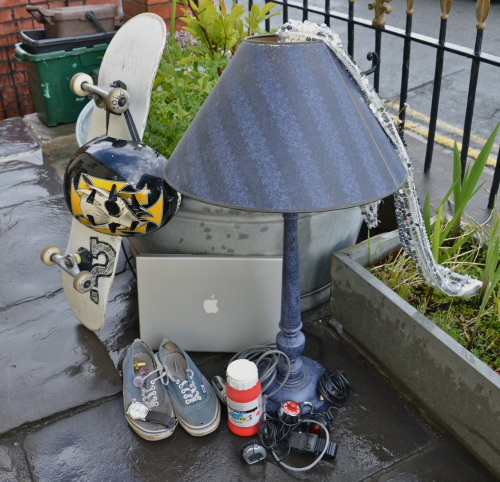 What we're trying to find out is what we all do with the things we don't use any more and whether anyone else can make use of them. 
I'm pledging to make our pile of stuff above useful by the end of 2015 and I need some help!
What sort of items are we 'wasting'? The things we can't give to charity shops or we don't want to put in our boxes or send to landfill. To name but a few…
Organic Matter- food, plants, seeds, patches of soil
Clothes and fabrics of all kinds
Household objects- furniture, appliances, curtains and crockery
Bits of bikes and boats
Art materials and even works of art
When we've worked out what people might waste and others might want, we're going to organise some events where people can meet together
and swap their stuff and create some wonderful new things.
Won't that be like a car boot sale without hard cash? Well, maybe a bit, but at each event we'll also be doing some workshops and 
collaborations to help each other turn our rubbish into works of art!
To check out Anna's website go to: http://annahaydockwilson.com/sharing-communities-nap2015/
And if you would like to contact her feel free to email her at: [email protected] 
---
Background information on the project;
What will a neighbourhood arts project look like for Cabot, Clifton & Clifton East?
The project has been shaped from what we heard from individual residents, community groups and local businesses.
What's happened so far?
Since September 2014 we've been consulting people living in the neighbourhood area to find out:
what issues need addressing in terms of the green agenda
particular areas that would be great to have an arts project
specific community groups or members of the community an artist, maker or facilitator should work with – ie schools, unemployed or older people
How have we engaged with this area? Well, we've…
talked at the neighbourhood partnership and local forum meetings
been working closely with Bristol City Council's Neighbourhood & Community Development teams
met with community leaders, groups and individuals
been busy on social media
left flyers in community buildings
held a public consultation meeting on the 14th January at the YHA on the harbourside

held

a Creative Brainstorming drop in session on Saturday 7th March to talk to the NAP team
What are the next steps?
"I'm a creative Bristolian and I'd like to get involved."
Watch out for further creative briefs for other areas.
Want to know more? Feel you could volunteer?
Get in touch – [email protected]
Follow the neighbourhood arts project on Facebook
Arts Under the Fly Over
Float your Boat
Bristol Students Union – Green Capital Event for University Freshers
Redcliffe Community Garden
The Wayfarers Bandstand In Progress
Student/Resident Street Swap
Float Your Boat